We are pleased to announce that Colin Edwards from Northcliffe Golf Club has accepted the position to be President of the Union in 2016. Alliance definitely on at Branshaw on 4th December
Welcome to the Bradford & District Union of Golf Clubs Website
Upcoming Competitions
There are no competitions currently scheduled
Live Competitions
A message from the President
I am deeply honoured to be chosen as the Bradford Union President for 2013, it is a challenge I will relish and I will give my total commitment.
It is my aim for Union activities to appeal to all Bradford golfers, lets hope for a year of good weather with the courses full of happy golfers.
Best wishes to everyone
Mick Doull
President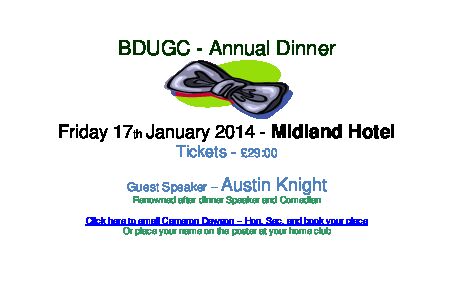 Recent Competitions
News from the Union.
2nd Division Team Championship
Bradford Golf Club (Jaz Athwal, V J Taheem, Stephen Parkinson & Craig Shields) won the event with a combined total score of 332. The home side of Bracken Ghyll (Iain Hall, Guy Hargreaves, Alan Pritchard & David Roberts) were runners up with 333
Junior Team Championship
Congratulations to Skipton Golf Club (Max Berrisford, Brook Coward, Lucy Eaton & Millie Eaton) for winning the event with a total score of 204. They now qualify for the Yorkshire Inter District Club Team Championship to be held at Keighley Golf Club on July 14th. The CSS was 70 for the boys and 72 for the girls.
9 Hole Club Team Championship
A win for Bradford Moor (Ben Barker, Jimmy Barry, Lee Duckworth, James Firth, Chris Suddards & Ian Walker) with a total of 280 - 4 out of 6 to count. Ben Barker had the best Individual gross of 67. The CSS on the day was 68.
Sue Ryder Salver
Many thanks to West Bradford Golf Club for hosting the event fairly windy conditions on the day but weather better than forecast. Host Club in top two places with Mr President and his team of Brian Marsden and Harry Line winning with a total of 78 Stableford points. It looks like we have made just short of £800 for Sue Ryder on the day so many thanks to all who took part.
Boys Individual Championship
Held at Bradford Golf Club with Ben Barker having the best gross score of 71 and both Ben and Tom Pullan having nett 66's.
36 hole Amateur Championship
A fairly full field took part at a windy Shipley Golf Club on 30th June. Two 70's in the morning from Danny Rowley and Jamie Mountain set the target but it was James Firth who shot 67 in the afternoon who clinched the title with a total of 142 (level par). Matthew Atter had a hole in one on the 8th hole. The matchplay draw has now been finalised to be played at Bingley St Ives on the 7th July. The CSS in the morning was 72 and in the afternoon 71.
Following rounds 1&2 of the Matchplay held at Bingley St Ives, the semi-final line up is James Firth v Andy Town and Rob Hillas v Will Whiteoak. These will take place at Baildon on 15th September.
Clubman's Championship
Held at Northcliffe Golf Club on 7th July. To reiterate this competition is now a joint competition played from both 'handicap' and 'stick end'. The winner of the gross prize was Emmott Parr- Gallagher from West Bradford and the handicap prize winner was Stephen Widdop from Northcliffe.
Bradford Charities Final
Home players Robert Windle & Jesse Teiti shot a 12 under 58 to win this year's Charities Final at Skipon Golf Club. Colin Smith & Andy Stillings from Northcliffe were runners up with 59, one shot ahead of junior pair Will Turner & James Tate from Bradford. 71 pairs competed in this event which raised a significant amount for our nominated charities
Bradford Open Championship
Calum Hey is thought to be the youngest winner of the Bradford Open after claiming the title with scores of 70 & 66. He also won the Sidney Carr Trophy for leading Amateur in the event and the Jim Wade Trophy for combined best score in the Open and the Amateur Championship. Oliver Young from Bingley St Ives was runner up one shot behind with home player Nigel Colbeck a further shot back.
Team Championship
At a wind swept Woodhall Hills, Shipley Golf Club team of Will Whiteoak, Rob Hillas, Jamie Mountain & Andy Ingham held on to clinch the title with a total score of 591. Bingley St Ives (Dane Bairstow, Terry Brushwood, Andy Town & Mark Evans) were runners up with 617 and Woodhall Hills (Mark Weighman, Gary Broom, Chris Dunn & Jack Torbett) 3rd with 619. James Firth (Bradford Moor) had the best combined individual gross score of 145 with Rob Hillas on 146. CSS for both rounds was 73.
Champion Club
All bar one Club took part in this event which was introduced last year. The team from Northcliffe (Russell Crowley, Peter Akester, Kelvin Cook, Matthew Goodhall & Stephen Wiliams) defended their trophy with the team from South Bradford runners up. Lets hope that all Clubs enter this event next year
Seniors & Veterans Championship
A very low turnout at West Bradford (nearly 80 down on last year!). Complicate competitions with Medals and Stableford scoring. The Seniors trophy was won by Brian Marsden frm West Bradford and the Veteran's Trophy by our Treasurer, Paul Crosby both these being results from 'stick'end' medal. In addition there are various age group categories from using stableford scoring. The winner of section A being Gary Weighman (The Manor), section B Brian Marsden (West Bradford), section C Jim Yeates (West Bradford and section D Gordon Lambert (West Bradford)
Finals Day
On a very wet and windy Baildon course we managed to complete all the various Finals and thanks to all the players who battled the elements. In the semi's, James Firth beat Andy Town and Will Whiteoak beat Rob Hillas in the Matchplay whilst in the Foursomes Cleckheaton beat Skipton B and Skipton A lost to Bingley St Ives. In the Boy's Matchplay Calum Hey had a 'walkover' into the final whilst Josh Bullough lost to Henry Tetley.
In the finals Will beat James by 1 hole, Dane Bairstow and Jacob Devanny (Bingley St Ives) beat Chris Green and Daniel Hall (Cleckheaton) by 2 holes. Henry beat Calum 3&1 in the Boy's Championship.
Just to show how bad conditions were in the Foursomes Championship one hole was halved in 11! It happens to the best of golfers
We also held the final of the Handicap Matchplay and the successful pairing was Phil Nutter and Lewis Walls from South Bradford who beat Andy Gibb and John Schofield from Ghyll.
Junior Fundraising event
Very diappointing turnout at Northcliffe and thanks to them for hosting. The team from Ghyll (David Taylforth, Bob Presland, Jack Farnhill and Derek Hartley) won with a score of 82 - again difficult conditions weather wise