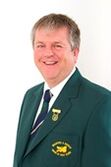 Colin Edwards
President (Northcliffe Golf Club)
I am proud to have been elected as your President for 2016.
I hope to visit all our twenty five member clubs throughout the season.
I believe it is something of a misconception that your Union only provides for the elite golfers amongst us.
We actually provide competitive but friendly golf for all calibre of golfers from junior to veteran.
Please take time to look at our diary of events, look at your club noticeboards and speak with your Secretary/Manager.
Make sure you don't miss out on some great opportunities.
We are here to enhance your golfing experience.