Congratulations to The Manor, Champion Club G Weighman, A Drewery, M Weighman, D Cash & C Thornley.
Welcome to the Bradford & District Union of Golf Clubs Website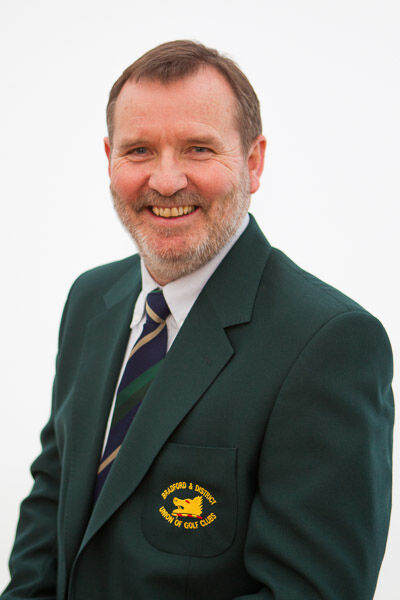 Terry Collins
President (Calverley Golf Club)
I am really proud to be your President for 2015 and look forward to visiting all clubs throughout the season.

Golf has been through a turbulent and uncertain period of time resulting in a general decline in club memberships.
In response to this, clubs have had to become more creative in providing numerous golfing packages in the hope of attracting new members to their clubs. Many clubs can now finally see a light at the end of the tunnel.
It is my belief that a truly united Bradford Union of Golf Clubs can further evolve and achieve even greater success in years to come."

News from the Union.
Alliance fixtures for 2015/16 are now confirmed see Alliance main heading
Bradford Past Presidents Fixtures 2015
Tuesday 15th September Ian Moody Memorial Trophy T Time 12.30 - 1.30pm @ Bingley St Ives G. C.
Bradford Past Presidents Introdution letter 2014.pdf please click on the link
This is to confirm the number of changes made to some competitions last year which will still apply this year.
A brief summary is:-
Team Championship
This will be increased to 15 Clubs but still played over 36 holes. In order to achieve this 7 Clubs from the 2015 qualifying round will be promoted
to the Team Championship. In future 6 Clubs will be relegated and 6 Clubs promoted each year
Foursomes Strokeplay
This will be scrapped and replaced by a 4 Ball Better Ball Medal from handicap over 18 holes. No limit on the number of pairs a Club can have
Foursomes & Amateur Matchplay
These will become stand-alone competitions and players will no longer qualify from Foursomes Strokeplay or Amateur Strokeplay Championships. Rounds will be played through the season on neutral courses culminating in semi-final & final on our Finals Day in September. Again no limit on number of players from any Club. There will be an entry fee for each competition
(£20 per pair for Foursomes & £10 for the Amateur). The closing date for both will be the 18th May when the draw will then be completed
ENTRY FORMS FOR COMPETITIONS CAN BE DOWNLOADED FROM WEB SITE. CURRENTLY ON HOMEPAGE GO INTO 'UPCOMING COMPETITIONS' CLICK ON ANY COMPETITION SHOWN, THEN CLICK ON 'BACK TO UPCOMING COMPETITIONS' WHERE THE FULL LIST IS SHOWN. CLICK ON RELEVANT COMPETITION TO DOWNLOAD
ENTRY FORM. PAYMENT FACILITIES ARE NOW AVAILABLE AS ABOVE